Naomi Ann Maisel and Andrea Pera are Masters students on the World Food Cultures and Mobility program and on June 11 created a throught provoking Medicinal Menu for the 10 Students project. Here the friends tell us about their menu choices and how it might just change our lives.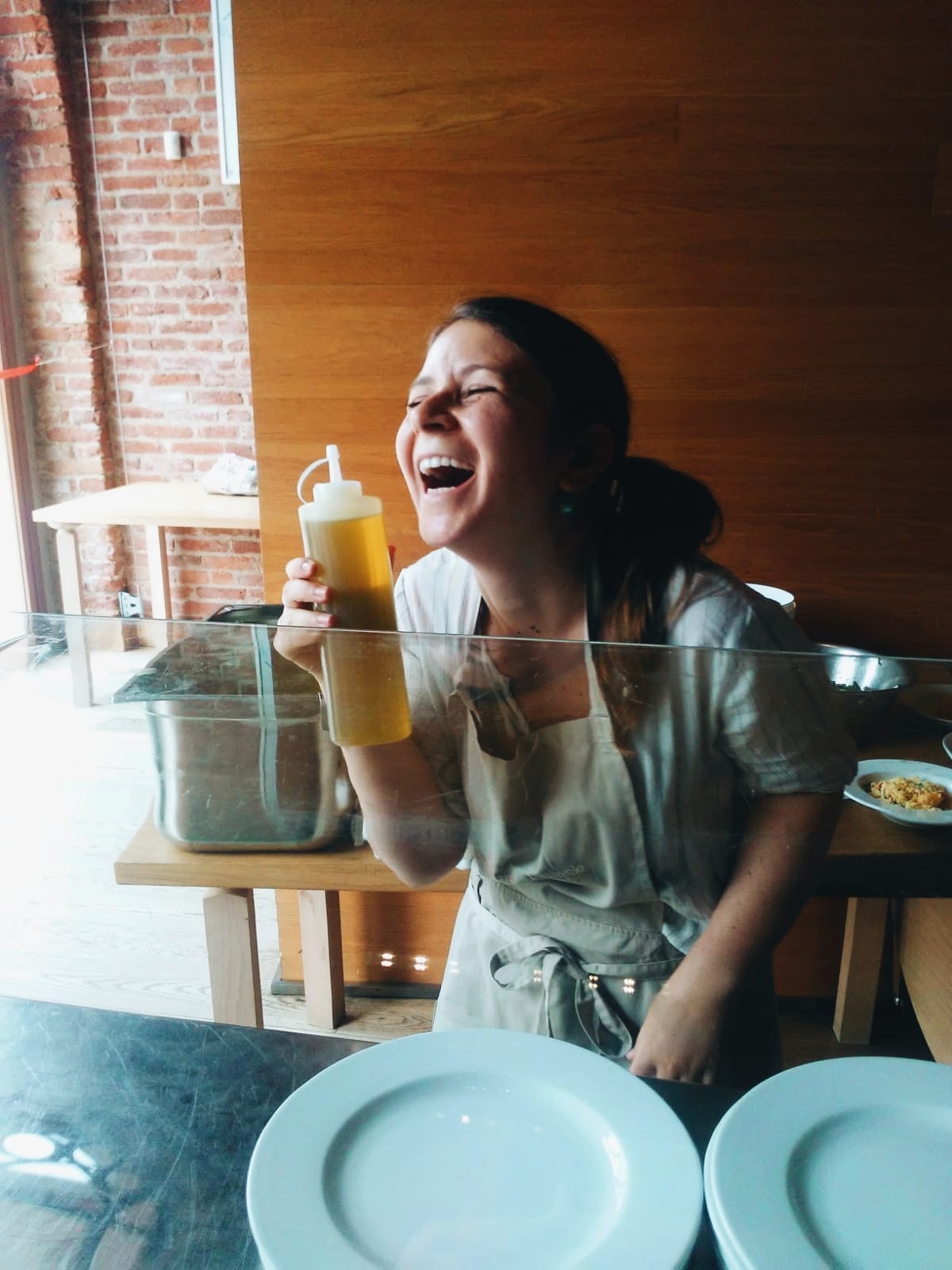 What nationalities are the team? What courses are you doing at UNISG?
Andrea is from Bogotá, Colombia and Naomi is from San Diego, California in the United States. We are both Masters in the World Food Cultures and Mobility program.
Why did you decide to take part in the students at Tavole Accademiche project?
From the start, we realised how great of an opportunity it was to design a menu that would be served to colleagues, classmates, and professors. UNISG is such a special place, and we wanted to take advantage of the freedom and flexibility awarded to students within the realm of food. Although we learn about food every day in class, it was important for us to step into the hands-on realm. In creating this menu, we experienced first- hand issues of seasonality, locality, as well as taste. Thinking through these challenges helped us to better appreciate the work that goes into creating a menu and serving others. Lastly, we believe it is an incredible honour to feed others and provide for them not just sustenance but a way to think differently about food and a space within which to do it. In participating in this project we wanted to share our combined interest in food as medicine, and inspire our colleagues to think differently about the way they eat, and treat themselves.
How did you come up with the idea of your menu?
We are both very interested in food as medicine, and wanted to use this menu as an opportunity to learn more about this ourselves within the context of the nearby geography, as well as share our passion with our colleagues. We wanted to create a menu inspired by traditional schools of thought on medicinal foods, and played with ideas of Traditional Chinese Medicine, Ayurvedic medicine, and homeopathic medicine. Ultimately we decided to combine some theories to create a menu that incorporated foods that are highly medicinal, but also easy to find and use. It is important for us to show students that they don't need to travel far to find magic foods with strange names, but rather that the plants in their own backgrounds carry volatile compounds that provide health-boosting and illness-fighting properties. As a result, every dish incorporates elements of seasonality and locality, staying true to what can be found in Piedmont, Italy in the spring, as well as our university garden.
What will you be cooking?
Our menu is as follows:
Starter 1: Salad of butter beans, black eyed beans, rocket, mustard leaves, chickweed, peppercress, feta cheese, and sumac.
Starter 2: Soup of green peas, asparagus, mint, and chives.
First dish: Cous cous, fregola, tomatoes, oregano, tarragon, mint, and basil.
Main: Flaky cod on a ginger and leek puree.
Dessert: Natural yoghurt with berries compote and ginger, served with iced chamomile, lemon balm and strawberry tea.
Please can you tell us a little about the ingredients and any special techniques that you use for the menu. Staying within notions of simplicity, our ingredients and techniques are easily accessible. The various courses can be named by theme: Detoxifying (starter 1), Diuretic (starter 2), Refreshing (first dish), Detoxifying (main), and Calming and Regenerative (dessert). Taking a closer look at the dishes themselves, the majority of the ingredients we chose have medicinal properties that are either used to boost wellness or fight illness. We will be circulating a flyer detailing the various medicinal properties during lunch, which you can find below!
What do you enjoy cooking at home?
Naomi: As a vegetarian, I cook a lot of legumes at home and mix in whatever hearty vegetables I have on hand such as kale, carrots and broccoli. I am very intentional about not wasting food, and thus I often cook stews, soups, and pastas that incorporate a grain with whatever produce I find in my fridge. My favourite thing to make is a Mediterranean veggie grain bowl, which I usually top with a nice yogurt sauce, mint, lemon, and some high quality olive oil. The bowls are versatile depending on what you have on hand, highly nutritious, and very filling!
What kind of work would you like to do once you graduate from UNISG?
Naomi: I am very interested in bridging the gap between traditional knowledge and modern-day problem solving, especially in terms of food justice, security, and sovereignty. After graduation I hope to hone my research experience, with a potential plan to pursue a PhD in Anthropology. In the meantime I will aim to work with organizations that are addressing the aforementioned issues from a systems perspective.