March, already! Spring is approaching sooner than expected, and the weather makes it perfect to spend more time outside and enjoy the sun. Make sure to check out the new section on Podcasts, and we hope you enjoy this month's post. See you at the graduation party!
-Unisg table Team-
ALL ABOUT: FOOD AS THERAPY
Food can be theraupeutic in many ways.
Cooking our childhood favourite dish might help us cure our homesickness, eating a colourful salad can brighten up the dullest of days and chocolate is an ever popular cure-all. Foodastherapy.org is a website aiming at highlighting exactly this relationship between our emotions and our appetite. The idea is that eating well is about preparing the food that you feel like eating, a simple and still somewhat radical thought in todays' food landscape, where eating a salad is always virtuous and an innocent cookie "a guilty pleasure".
You will find sections dedicated to the main categories: health, home, love, anxiety and boredom. Recipes are kept simple and unfussy and accompanied by nicely written side notes hopefully mirroring your state of mind. I suggest you go and have a look, I'm off to make a nice soup for dinner, hoping that it will be helping me to be able to focus on just one thing.
STUDENT LIFE: GRADUATION PARTY
It is said that every chef knows how to prepare an egg in at least a hundred ways. Every self-respecting gastronome wouldn't fall much behind. Yet, it is worth mentioning that those amongst you familiar with the works of Mr F. Scott Fitzgerald may have the advantage. To catch up with them, why don't you join us for this year's Graduation Party. On the 8th of March, at 21.00, Movicentro will turn into Jay Gatsby's mansion. In other words, jazz up your outfit and get ready to feel the spirit of the Roaring Twenties. Oh, and before we forget, you still have time to join the Instagram competition. Unlike with bootlegging, you don't have to be a criminal mastermind to win substantial rewards.
Student tables at Tavole Accademiche
Each year ten groups of students gather around a menu, inspired by their culture, country or even a class they are attending at UNISG, and serve a signature lunch at Tavole Accademiche. They work with the catering guys at Tavole and have several meetings with head chef Martín Vera, as well as other key members of the catering brigade to create a memorable experience. This year the groups working with Tavole are drawn from all the university including Trienniale, Magistrale and, as this photo shows, from the Masters in Food Culture, Communication & Marketing courses.
Keen cooks Philippe Kämpf (right) from Switzerland, Carlotta Panza from Liguria (centre) and Matthieu Lecuit (left) from France started at UNISG this January and can't wait to get into their chef's white jackets, put themselves behind the stoves and cook. Menus are being finalized right now and dates in which the various teams will be cooking will be available soon. Chef Martín tells us that some teams create a different, unique atmosphere in the dining hall with music or perhaps by displaying creative work around the canteen. The lunches are always enthusiastically looked forward to, giving students an opportunity to show off their creative skills and love for cooking and food.
Each month we'll chat with a group of students to understand how they developed their menus, what inspired them and what they hope the diners will experience eating their food.

Merging cultures
A tale of food and wine pairing in Paris
What better way to know someone else by means of their food?
I have a tip: drink some wine while you're eating. In Paris, the worldwide symbol of fine dining, merging different cultures with food and wine pairing can be a surprising and delicious experience. Most importantly, it is the best way to understand each other. Read here.
Super size me
by Morgan Spurlock
An in depth McDonald's experience that will push you to reflect on consumers' behaviors and choices. The movie shows what can be called "a fast of fast food life" as it is based on the demands and answers of the market. The documentary is based on an experiment whose object is the director himself, who spends 30 days eating only meals served at McDonald's. After the movie came out in 2004, there has been an increasing interest in the fast-food industry from the audience. As a result, McDonald has began to show some concern on its consumers' health, changing its menus and giving new different ranges of choices. The main outcome is what professionals have figured out analyzing the fast food diet: the body mass and the internal body setting can be affected by consumption of high fat and high sugar containing foods.
Is it a matter of calories or is there something more? Multinationals have a relevant role in the global market and local consumer choice: our daily preferences are directly shaped by the environment that surrounds us and this interesting movie will make you reflect on it.
Why are, to this day, the working conditions and the nutrient amount of the final food products, so poor?
Thanks to this lecture you may find the answers on the relationship between nutrition and industry, on the illegal employment of immigrants, on the link between meat packaging industries and cities' gangland. The food quality is decreasing due to the several steps of the food production which impoverish the material.
"Eric Schlosser's book on the economy and strategies of the fast-food business should be read by anyone who likes to take their children to fast-food restaurants." The daily telegraph, one of the most important daily newspaper in the UK, reflects what the reality is like: Nowadays the families get together in the fast food restaurants (not at home) and awareness is needed in order to educate the younger generations on food. The American case history reported is not the only reality: explore issues related to fast food marketing and its impact on societies' culture thanks to the book's critical point of view.
Fast food nation
by Eric Schlosser
Meet Molly Renaldo from the US, former class representative and 2018 graduate of MFCC Marketing & Sustainability of High-Quality Products. She is an incredibly positive, enthusiastic and inspiring gastronome eager to make an impact on the world through food. Before coming to Pollenzo, Molly earned an undergrad in International Business and Trade from Boise State University. She is now synthesizing her aptitudes in international trade and passion for food as a successful Business Development Manager for Fair Trade USA in San Francisco. Read on to learn how UNISG helped her designing her career!
If you are looking for an adventure this is the right page where to find it! This two young guys, Pietro Ienca and Luigi Chiurchi are spending their time traveling all over the world, discovering new amazing places, people, traditions and food. You may have had already the possibility to meet them during Terra Madre, where they have been invited to talk about a research trip they have done in the Spanish savanna. Through their Instagram stories they give us the possibility to travel with them and, why not, take inspiration for a future trip by yourself! Enjoy the adventure!
YOUR INSTAGRAM
Millions of food and drink photos are posted online everyday with social media apps such as Instagram, Facebook and Pinterest bursting at the seams with new images. Many students here at UNISG are keen photographers and share their images through Instagram sharing the fantastic opportunities that being a student here offers. Whether is rolling out pasta, making Chinese dumplings or recommending which bottle of Barolo you should be tasting.
Want to your see your account mentioned here or one you think more people should hear about? Then email us with your suggestions here!
Hi! I'm Bruce McMichael, a new student on the Master, Food Culture, Communications & Marketing course. I'm also known as a citrus fan or 'Lemonhead' and a big fan of Instagram. Open any cookbook, food magazine, drink a glass of Riesling or mix up a Limoncello cocktail and you'll find citrus - pictures, recipes using lemons, limes, oranges! I love the freshness, colour and feel of these fruits, their taste and vitality.
So, on my Insta account expect to see lots of images of lemon festivals in Liguria; orange trees on the French Riviera and hopefully a Slow Food Ark of Taste's Procida Lemon grown in Campania, during our first study trip this March! We are in the middle of citrus season in Europe with fruit from Liguria, Lake Garda and further south in Sicily found in our local market and even those roadside trucks selling oranges and lemons around Pollenzo.
Gastronomes! Get ready for the launch of UNISG Table's very own podcast! This will be a monthly podcast hosted by students for students, covering as many food and drink related topics that we can fit into a recording. Expect to hear from Guest Chefs; get an insight into study trips; learn about exciting events happening in and out of UNISG, and much, much more!
And that's not all, we also want you to get involved! If you know of an event that you think we should be talking about, maybe you want to discuss a breaking food-related news story, tell us about a producer you have come across, or just want to tell us what you've been eating and drinking in and around Pollenzo, then get in touch! Drop us an email at with the subject line "Podcast" and tell us about your idea.
In the meantime, why not get your teeth into The Food Programme, a podcast from the BBC investigating many aspects of the food that we eat. This show discusses everything from the history of food to whether or not we should boycott controversial ingredients. Find it on Itunes, Soundcloud, Spotify, and on all other podcast-apps!
This recipe is perfect when you just have the basic ingredients for baking in the fridge. I absolutely love the sweet and sour taste of them. Plus they are super easy to make, and perfect for all the occasions.
If you are a citrus lover, give them a try and let us know! Here's THE recipe.
"No to the agreement, the battle continues" Sardinian farmers don't want to stop their objection. This complain is the symbolic result of an economic issue. Read more
Farming is not Poverty, it is Fundamental for our Future. "The belief is that being a farmer is synonymous with poverty, but it is not. We are now transforming that misconception because those people are playing an essential role in the future of humanity". "Nature is not a force to resist, but something to adapt to, drawing on our capacity for resilience."
Milk, human and animals
The relationship between humans and animals dates back thousands of years, and it has had a lot of ups and downs. Back in 2000, China launched a nationwide campaign to encourage people to consume more milk and dairy products for health reasons – a campaign that had to overcome the deep suspicions of many older Chinese people. In northern Europe, more than 90% of people are lactase persistent. Drinking milk might have other advantages besides its nutritional value. Milk contains a type of sugar called lactose we produce a special enzyme called lactase that allows us to digest the lactose in our mother's milk!
G.D. Vajra, Barolo Piemonte
Are you interested in wine and you want to work with it? Maybe this is the best work for you! This company needs people to receive their customers and to guide them into the world of wine. Check it out! Deadline: 10/03.
Cicorella alimentari, Ulm Germany
This Gourmet grocery is looking for a full time seller. They are specialized in italian salumi, cheeses, fresh products. Deadline: 15/03.
La locanda del Colonnello, Modica Sicilia
This beautiful place is located in Sicily, and it's a restaurant that is looking for young gastronomes passionated in cooking and food. The main job is to be a maitre with passion for wines.
Deadline: 01/04.
The Botanical Club of Milano, Milano
If you are a chef and you like to work with a great team of other chefs, this Club is looking for you. Check it out! Deadline: 17/03.
CREDITS:
Amber Bewick, Viola Giorgione, Lukas Küblböck, Nikola Gruev, Asya Argentieri,
Susanna Danieli, Martina Molino, Sonja Steffens, Elena Terzano, Alyson Parkes,
Bruce McMichael, Carly Dela Cruz, Vittoria Rapone, Alessia Colaianni.
Hello February and Welcome to the new students on campus!
This month's weather isn't one of the nicest ones, keep warm and take a little tour through the snowy Langhe, beautiful no matter what. Check out the new sections in this month's edition, like the yoga and podcast one. We hope you enjoy and have a wonderful week.
-Unisg table Team-
Yoga is gaining popularity all over the world and judging from flyers and posters around our little town, Bra is no exclusion. Luckily for us, there is a student offering a small weekly class for beginners or more seasoned practitioners alike. But actually, how does yoga feel? Is there a connection with food? Click here to read some thoughts and find out more, comment with articles and your thoughts!
Find out a family recipe, challenge yourself in mastering it (by stealing the secrets from nonna's hand), share it with your family and friends and tell its story… take advantage of the chance to discover Matera, in Basilicata! Mammamiaaa is a celebration of food and relationships, it is one of the projects in the "Roots and Routes" theme by Matera 2019, European Capital of Culture.
Anybody can take part in this project, in your own mother tong with only a brief English translation to subtitle it with. All your digital stories will be inserted in the digital archive and the partecipants will be invited to Matera to a shared dinner on SEPTEMBER 7th.
More than 3,500 #mammaiaaa stories have already been shared online!
Check out these brochures, both in Italian and English. register here.
What's more? They have created an online platform to share any Social food projects in Europe, to give value to the least known and to create a web of projects such as food hubs and community kitchens; community supported baking – and brewing; social farming, and care farming; citizen-farmer associations; soil restoration and seed saver projects; school gardens; community colleges and catering colleges with social programmes; food projects with refugee; urban farmers; edible foresters; bee keepers; street food projects; fair trade projects.
The location of each project is identified on an interactive map, together with a link back to the project's website. If you would like to suggest an entry please send a short email – including a website for the project to: atlas@mammamiaaa.it
#mammamiaaa #matera2019
Italian wine perspectives - Cantina Urbana
What first comes to your mind when you think of a wine cellar? Let me guess: it involves taking your car, driving to some hilly country spot, usually a greenish-yellow landscape surrounded by vineyards and possibly olive trees, some chickens scattered around and the inevitable tractor blocking your way for a while.
Did I guess it right? This is the typical Italian wine landscape and yet, you would never tell it is possible to find a wine cellar in a totally different context, that is THE METROPOLITAN CITY OF MILAN. Yeah, you heard me: I'm speaking of Cantina Urbana, the brand new wine-making and tasting spot along Navigli, the evocative canals crossing the city. Read more
"The Art of Fermentation is much more than a cookbook… It tells you how to do it, but much more important, it tells you what it means and why an act such as making your own sauerkraut represents nothing less than a way of engaging with the world".
These are the words of Michael Pollan from the foreword to this important fermentation book written by Sandor Ellix Katz. Katz, who spoke at conferences in Pollenzo on several occasions, created a guide simple enough to help people that are new to fermentation on the beginning of their journey, but also in-depth enough to give a better understanding and insight for those with more experience. He gives us a lot of information, like the history, concepts and processes behind fermentation.
So go and give it a read, take your veggies, your grains, starchy tubers, milk and many other things and start your new life as a "fermento".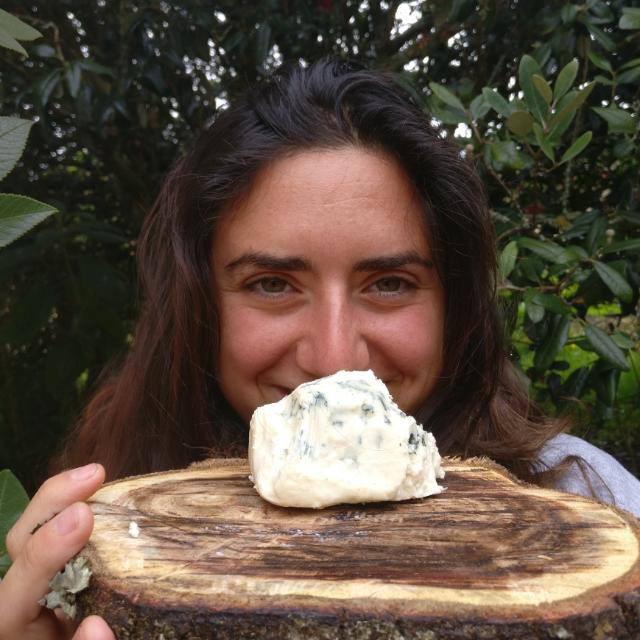 Micol Treves, 26, is a former master student from Turin, who lived parts of her life in Israel. After doing her bachelors degree in Tel Aviv, she came to Pollenzo to join our little bubble. She lived in Colombia for a few months to work on her thesis at a small farm, making cheese.
This inspired her to go back to Israel after graduating and start working in cheese production in the desert.
You can read the interview here.
Have you already looked at our new Instagram page? A new tool we wanted to integrate with the website, to keep you updated and directly share our articles, events and suggestions throughout the month.
Follow us, double tap, share share share! Most importantly though, DM us any interesting article, IG account, all the food porn-videos-recipes that you feel our small bubble just HAS to know of! We hope to hear from you!
Gastronomes! Satisfy that thirst for food stories, its patterns and impacts with this interesting and accurate podcast!
Hidden history, clearly explained science, Gastropod looks at food just how we like it! Interviews with experts and food facts, engaging and fascinating. A podcast by two award winning women, radio producer Cynthia Graber and book writer Nicola Twilley. Find it on Itunes, Soundcloud, Spotify (and on all the other hundred podcast-apps)!
When I think about home, and most of all about home food in winter times, my mind goes always to the crostata with chestnuts of my lovely grandmum. She uses to do it with the afternoon coffee, or for an important party, because it's her favorite one and she is the best in making it.
Hope you like it, click here!
10 years challenge?
In January 2009, the European Commission was due to publish criteria – called 'nutrient profiles'. These maximum thresholds would act as "filters" preventing messages that give a healthy halo to unhealthy products and mislead consumers as to the actual nutritional content of the food they buy.
However, the publication of those profiles has not happened yet.
Learn more - Gallery
Check out the new Planetary diet, to save us and the planet. It is a scientifically studied diet, published by the EAT-Lancet commission, focused mainly on plant-based foods and important for the future of our planet. Click here
Eataly, Milano Smeraldo
Different intership positions available:
B2C events, Comunication, Didactic assistant.
Deadline: 10 - 28/02.
Mieli Thun, Trento
Sweetest proposal this month! Two internship positions in Marketing-online selling and Beekeeping fields. Deadline: 08 - 23/02.
UNISG Student/Alumni Ambassadors
Want to improve your public speaking, social media management, and event management skills? Become an official Ambassador of Pollenzo in Italy and in the world.
Deadline: 17/02.
Global generation, London
A full time position as catering manager, this role involves a combination of office and kitchen based work. Deadline: 10/02.
CREDITS:
Amber Bewick, Viola Giorgione, Lukas Küblböck,
Asya Argentieri, Susanna Danieli, Martina Molino, Sonja Steffens