Time is flying and suddenly we find ourselves in June. It starts to get unbearably hot here in Bra and lines outside the Gelaterie become longer and longer. In this edition, we're featuring some inspirational ideas on how to spend your days, leading up to the next exam session. Check your e-mails as you may be receiving some exciting GAS orders or just escape the busy life in town and spend a day at the Gastronomic Society! This month, be sure to try and cook yourself some lebanese food to enjoy on these mild summer evenings. Also, keep in mind that we are still looking for some cool people to join our team, so if you've always wanted to write, get to know people or take photos, WE are the ones for you! Just send us an email and you'll be ready to rock. - Your Newsletter Team
What is GAS? How did this small shop on Vicolo Sergente Testa begin? For many years students of the university have been doing their weekly grocery shopping every Monday evening at this little store, but does anybody actually know how it works?…
'Gruppo di Acquisto Solidale', more commonly known as GAS, is a project that was initiated by students and Bra community members in collaboration with a farmer's association called Piedi Per Terra. The goal is to connect people with local farmers and provide them with good and clean food. Initially, the project began as just a garage collection point where people could order their food and plan their menus in advance. However, now the project involves over 80 members and is shop, collection service and a place to interact with local producers and learn about their products. Be sure to follow the Gas La Credenza emails for interesting orders coming up this month, including organic meat, parmesan, ricotta and toma cheese. Also, save the date for June 4th, when GAS will be hosting a biking event to Piedi Per Terra's farms for a chance to learn more about the project and taste the delicious products!
Swap room
Did you know there is a swap room at the Società Gastronomica? It is a place where you can drop off all the old clothes that you won't be using any more. But here's the good news: there is a lot of nice stuff that students of the past years have left and now it is all organised and doesn't look like there has just been a big bang explosion! So, if you're looking for some new clothes without spending money or want to share some of the clothes you're not using any more, this is the place!
Italian Career Day
Looking for jobs can be an extremely stressful time for students who are about to finish their studies and enter the work force. What better way to get you started than participating in Italian Career Day? Similar to the International Career Day organised by the Career Office in April, the event will be held in 2 parts. The morning will take place in Aula Magna where various Italian companies will present 'what they do' and 'who they're looking for'. The afternoon, on the other hand, will consist in real life job interviews open to all Masters, Magistrale and 3rd year Undergraduate students. This year, we are lucky to have companies ranging from Eataly, IKEA, COOP and Lavazza to even Velier and Mondo del Vino. Whether it be in search of an internship or just a way to make some interesting contacts, make sure you participate and send your application form to the Career Office by June 9th. Good luck!
Mezze, a Labour of Love
by Barbara Abdeni Massaad

During the second half of May our school lunch times have been enlightened by the colorful, joyful and full-flavoured Lebanese dishes cooked by Barbara Abdeni Massaad. Did you enjoy Hummus with Shawarma or is your mouth watering thinking about Fatteh and Baklava? Mezze, a Labour of Love is the right book to satisfy your craving for Lebanese food and enhance your knowledge on Lebanese Cuisine. Doesn't matter if you're looking for inspiration, recipes to reproduce for Social Dining or whether you're just curious about the Lebanese way of eating. This collection of mezze recipes reflects Barbara's desire to guide us back towards simplicity. Fresh, seasonal ingredients and easy techniques encourage and support even the least experienced cooks to success. She has taken inspiration from her own life experiences to bring us the best recipes available. Discover the magic behind the mezze way of eating, the essence of Lebanese culture.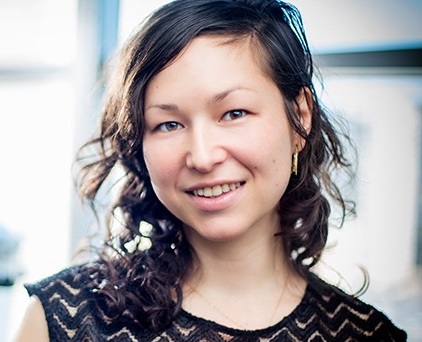 Maya, like many other UNISG students, comes from many places. She completed her masters degree in Food Culture & Communication with an emphasis in media, meaning, and representation (FC18) in 2015 to have a more comprehensive approach for tackling food issues. She's really interested in fermented foods... So, what do you think? Would you like to know more about her food life? Read our interview here! Photo Credit: Marc Bourcier
Photos of his bread, brioches, delicious mexican treats or simply pictures of his travels around the world create a beautiful, colorful instagram account! Follow @itsnotjustaboutfood
Bioreport 2016
Bioreport which analyses the development of organic agriculture in Italy from 2011 to 2016 Download here
Between tradition and industrial wine
An overview on the wine world starting with Rioja Read here
Summer time - cherries time
Everything from prices and recipes to myths about cherries. Refreshing like a summer breeze. Watch here
The non review of Noma Mexico
Looking for a Noma Mexico review? You won't find it here. Here is why Read here
Japan is calling for you! If you´re passionate about learning everything about Japanese culture and cuisine, Slow Food will offer you an internship in this fascinating country! Click here.
The tutor office at our university needs new tutors! So if you love travelling, discovering new territories and leading a group, that´s YOUR job! Click here.
Are you a real pro when it comes to wine and on top of that you want to see California? Contact the Michael Mina Group, that is looking for a sommelier to join their team. Click here.
La Fontanazza in La Morra is in need of a cook. Their beautiful location, fireplace and carefully chosen dishes should be reason enough to give it a try! Click here.
P.S. We're still looking for people to join the newsletter team!
CREDITS:
Marfa Bashilova, Andrea Bianchi, Greta Contardo, Zahra Hirji, Lea Schelling