Hello February and Welcome to the new students on campus!
This month's weather isn't one of the nicest ones, keep warm and take a little tour through the snowy Langhe, beautiful no matter what. Check out the new sections in this month's edition, like the yoga and podcast one. We hope you enjoy and have a wonderful week.
-Unisg table Team-
Yoga is gaining popularity all over the world and judging from flyers and posters around our little town, Bra is no exclusion. Luckily for us, there is a student offering a small weekly class for beginners or more seasoned practitioners alike. But actually, how does yoga feel? Is there a connection with food? Click here to read some thoughts and find out more, comment with articles and your thoughts!
Find out a family recipe, challenge yourself in mastering it (by stealing the secrets from nonna's hand), share it with your family and friends and tell its story… take advantage of the chance to discover Matera, in Basilicata! Mammamiaaa is a celebration of food and relationships, it is one of the projects in the "Roots and Routes" theme by Matera 2019, European Capital of Culture.
Anybody can take part in this project, in your own mother tong with only a brief English translation to subtitle it with. All your digital stories will be inserted in the digital archive and the partecipants will be invited to Matera to a shared dinner on SEPTEMBER 7th.
More than 3,500 #mammaiaaa stories have already been shared online!
Check out these brochures, both in Italian and English. register here.
What's more? They have created an online platform to share any Social food projects in Europe, to give value to the least known and to create a web of projects such as food hubs and community kitchens; community supported baking – and brewing; social farming, and care farming; citizen-farmer associations; soil restoration and seed saver projects; school gardens; community colleges and catering colleges with social programmes; food projects with refugee; urban farmers; edible foresters; bee keepers; street food projects; fair trade projects.
The location of each project is identified on an interactive map, together with a link back to the project's website. If you would like to suggest an entry please send a short email – including a website for the project to: atlas@mammamiaaa.it
#mammamiaaa #matera2019
Italian wine perspectives - Cantina Urbana
What first comes to your mind when you think of a wine cellar? Let me guess: it involves taking your car, driving to some hilly country spot, usually a greenish-yellow landscape surrounded by vineyards and possibly olive trees, some chickens scattered around and the inevitable tractor blocking your way for a while.
Did I guess it right? This is the typical Italian wine landscape and yet, you would never tell it is possible to find a wine cellar in a totally different context, that is THE METROPOLITAN CITY OF MILAN. Yeah, you heard me: I'm speaking of Cantina Urbana, the brand new wine-making and tasting spot along Navigli, the evocative canals crossing the city. Read more
"The Art of Fermentation is much more than a cookbook… It tells you how to do it, but much more important, it tells you what it means and why an act such as making your own sauerkraut represents nothing less than a way of engaging with the world".
These are the words of Michael Pollan from the foreword to this important fermentation book written by Sandor Ellix Katz. Katz, who spoke at conferences in Pollenzo on several occasions, created a guide simple enough to help people that are new to fermentation on the beginning of their journey, but also in-depth enough to give a better understanding and insight for those with more experience. He gives us a lot of information, like the history, concepts and processes behind fermentation.
So go and give it a read, take your veggies, your grains, starchy tubers, milk and many other things and start your new life as a "fermento".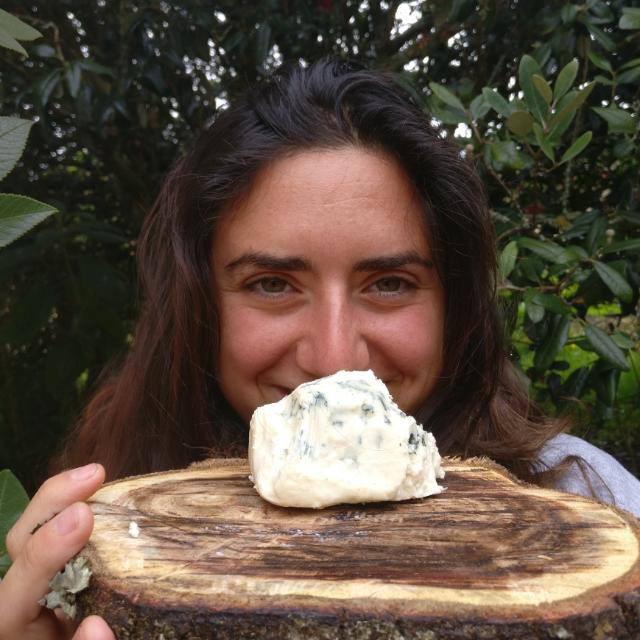 Micol Treves, 26, is a former master student from Turin, who lived parts of her life in Israel. After doing her bachelors degree in Tel Aviv, she came to Pollenzo to join our little bubble. She lived in Colombia for a few months to work on her thesis at a small farm, making cheese.
This inspired her to go back to Israel after graduating and start working in cheese production in the desert.
You can read the interview here.
Have you already looked at our new Instagram page? A new tool we wanted to integrate with the website, to keep you updated and directly share our articles, events and suggestions throughout the month.
Follow us, double tap, share share share! Most importantly though, DM us any interesting article, IG account, all the food porn-videos-recipes that you feel our small bubble just HAS to know of! We hope to hear from you!
Gastronomes! Satisfy that thirst for food stories, its patterns and impacts with this interesting and accurate podcast!
Hidden history, clearly explained science, Gastropod looks at food just how we like it! Interviews with experts and food facts, engaging and fascinating. A podcast by two award winning women, radio producer Cynthia Graber and book writer Nicola Twilley. Find it on Itunes, Soundcloud, Spotify (and on all the other hundred podcast-apps)!
When I think about home, and most of all about home food in winter times, my mind goes always to the crostata with chestnuts of my lovely grandmum. She uses to do it with the afternoon coffee, or for an important party, because it's her favorite one and she is the best in making it.
Hope you like it, click here!
10 years challenge?
In January 2009, the European Commission was due to publish criteria – called 'nutrient profiles'. These maximum thresholds would act as "filters" preventing messages that give a healthy halo to unhealthy products and mislead consumers as to the actual nutritional content of the food they buy.
However, the publication of those profiles has not happened yet.
Learn more - Gallery
Check out the new Planetary diet, to save us and the planet. It is a scientifically studied diet, published by the EAT-Lancet commission, focused mainly on plant-based foods and important for the future of our planet. Click here
Eataly, Milano Smeraldo
Different intership positions available:
B2C events, Comunication, Didactic assistant.
Deadline: 10 - 28/02.
Mieli Thun, Trento
Sweetest proposal this month! Two internship positions in Marketing-online selling and Beekeeping fields. Deadline: 08 - 23/02.
UNISG Student/Alumni Ambassadors
Want to improve your public speaking, social media management, and event management skills? Become an official Ambassador of Pollenzo in Italy and in the world.
Deadline: 17/02.
Global generation, London
A full time position as catering manager, this role involves a combination of office and kitchen based work. Deadline: 10/02.
CREDITS:
Amber Bewick, Viola Giorgione, Lukas Küblböck,
Asya Argentieri, Susanna Danieli, Martina Molino, Sonja Steffens