All of us are so busy these days, you will barely meet anyone in the streets of our beloved Bra. Studying studying studying. But spring is knocking on our doors and if you look closely you will discover people here and there, giving themselves a break. Enjoying this season´s first ice-cream, a coffee in the sun or a walk to clear the mind. It´s the most beautiful time of the year, and we shouldn´t let exams ruin our spring in Italy. Get out there, take a break, treat yourself! We will definitely do it too.
- Your Newsletter Team
UNISG ACTIVITIES: INTERNATIONAL CAREER DAY
As the end of the academic year approaches, fear has begun to spread amongst students about entering the real-life hunger games of job hunting. Questions about 'what to do next?' and 'where to go in the world?' have reached their time to be answered…
On the 28th of April, our UNISG Career Office will be holding an International Career Day for all those looking to be inspired and hoping to enter into the real world of 9 to 5 jobs. Acting as a 2 part workshop day, international businesses and organisations are brought to our university to present themselves with the hope of recruiting a few lucky graduating students for future work opportunities. The morning will consist in an 'open to all' presentation of the various companies from countries such as the UK, France and Switzerland to even the US and Japan. The afternoon will then proceed with individual or group interviews for actual positions within the companies. Whether it be to find a job or just broaden your horizons about work possibilities, Career Day is great opportunity for networking and making connections for the future. This year we have a great range of representatives from big companies, international importers to sustainable restaurants and hospitality chains, so make sure to dress smartly, update your CV and prepare to fight for your pay check!
DISPENSA - Bookazine
Dispensa narrates the world of food through stories of people and stories of food. No recipes or reviews inside: just people, products and land, art and culture. It is printed on paper made from food waste and doesn´t contain advertising, it's a magazine to be collected. Each issue addresses a different theme, telling the best of Italy and the world. The new edition, the 7th, sets out to discover how much there is left of the child within us, that allows us, even as adults, to continue discovering the world through eyes filled with dreams, joy, cheekiness, innocence, honesty, irreverence and – at times – cruelty.
Curious? You can find it at Unisg Library!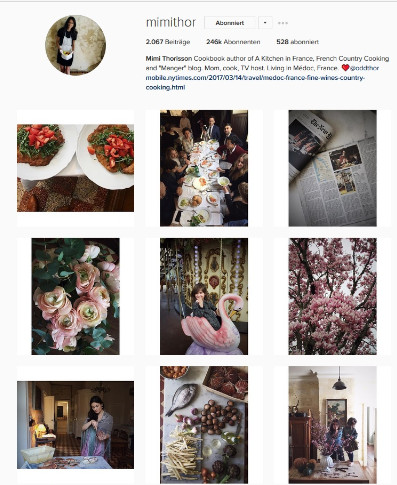 Mimi Thorisson, a beautiful and creative, french cook and real power women might inspire you with her delicious feasts and recipes to have this year´s first spring dinner with friends and beloved ones! @mimithor
What Brexit means for British food Read here
Sometimes it feels like politics isn't involved in our everyday life. Not when it comes to food
Goodbye Bob Noto, great food photographer (who discovered Adrìa)
Food photographer who told the story of the modern cuisine evolution during the last 25 years. Read here
To become a better cook, sharpen your senses
Ever thought of a connection between sound and cuisine. Here is the opinion of a professional musician who turned into a "pie coach"
Read here
Goose - the market in Indianapolis is looking for a sales assistant who can get really excited about cured, smoked, aged meats of all kind. Are you the one? Check out the offer here.
Do you LOVE eating? And love writing about it? Mindthis Magazine, a super cool and young blog, writing about anything concerning our Generation Y needs a columnist for `the Eater`section! Click here.
Are you ready for a unique experience in the area of Mount Etna? The organic country hotel Monaci Delle Terre Nere is looking for a new chef in their restaurant. Click here.
Cantina Renato Ratti in La Morra is looking for a wine-lover to guide visitors around the cellars and occupy himself with degustations and selling. Are you interested? Click here.
P.S. Did you know that pearls dissolve in vinegar?
CREDITS:
Marfa Bashilova, Andrea Bianchi, Greta Contardo, Zahra Hirji, Lea Schelling